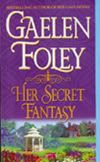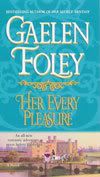 And yet another bonus of having well-read friends....author recommendations! This author was brought up during a recent trip to Arkansas, where I was told I
had
to read her! So, I chose her most recent series, and I was not disappointed in the least! Of course, I read it out of order!
The Spice Trilogy is the story of the Knight family, Georgiana and brothers Derek and Gabriel. There is another series by Foley that tells the story of the rest of the Knight clan as well. These siblings were raised in India, at a time when the English sought to make their fortune from the bounty that India held. It was also was a place of much fighting between the Indian people and the British occupation.
The first novel is
Her Only Desire,
the story of Georgiana Knight, a fearless woman who has lived all her life in India. She has grown to love the people and the culture.  Being English hasn't stopped her from being a proponent of the rights of the people, and the perfect example is our first glimpse of her, saving a friend from throwing herself into a ceremonial fire after her deceased husband. Georgiana is outspoken, a bit wild, fearless, and yet still has the innocence of a maiden. She longs to be in love, and refuses to settle for less. Enter Ian Prescott, the Marquess of Griffith- Ian is an ambassador for England and is sent in for negotiations with the powerful King Johar, whom is acquainted with Georgiana through one of his many wives. Viscious tribes threaten the area and King Johar's signature on a treaty is the only hope for peace.  Ian is entranced by Georgiana's freshness and vitality, and falls for her against his better judgement. The entire party is forced to flee when Georgiana is caught snooping in the Queen's personal room, attempting to help Ian with his treaty negotiation.  The brothers protect her and the trio is banished from the area.  Sent to England to live with relatives she's never met, Georgiana is met at the docks by Ian, and they make their union official.  He holds a horrible secret about his first wife that keeps him from forming an attachment with anyone-until he meets Georgiana.  They each bring out the best and worst in each other!
The second installment is
Her Secret Fantasy
, the story of Major Derek Knight, an Indian soldier with a flawless record, until he and his brother get into trouble protecting his sister during their escape from King Johar. Derek is sent to England to find out what happened to the money the Crown had promised the regiments in India. Not happy with the assignment, but determined to secure the money for his men, Derek goes on his errand, making several stops among the parties of the
ton
along the way, and earning a reputation as man who can please a woman. At one of these parties he meets Lily Balfour, an impoverished lady who has come to London marry a rich man and save her family's estate from ruin. Both Lily and Derek are immediately attracted to each other, but Lily is intended to another- a man who Derek has been working with to get the money to his men.  Derek's investigation of her intended prompts Lily to do her own searching, and she gets caught in the process by her suitor, who shows his menacing side as he threatens her.  With Derek in danger from him, Lily acts bravely to save Derek from a horrible fate.  The attraction between Lily and Derek is fierce and loyal, and they run into much danger while working out their feelings for each other.
The finale is
Her Every Pleasure
, the story of Major Gabriel Knight, a soldier like his brother, nicknamed the Iron Major. Gabriel should be dead- he receives a mortal wound while protecting his sister in India, and was in fact dead at one point, then brought back. That experience has changed his way of thinking, and he lays down is sword, swearing he will never again take anothers' life. He moves to a remote farmhouse in the countryside, lighting candles for those he has slain, and living a simpler life away from the
ton
. Then he finds Sophia asleep in his barn while feeding the resident kittens one day. Sophia is a Princess who's land has been torn apart by war, and she has lived most of her life in seclusion under the threat of death from her enemies. She is the last of her family to claim the throne, and with the help of the British government, she intends to claim her place. An attack on her party leads Sophia to run and take cover in the remote area, where she meets Gabriel and becomes his maid; her identity remaining a secret. They are instantly attracted to each other, however Sophia's curiosity about Gabriel, and his own issues make their short relationship volatile. Gabriel learns of her true identity after she leaves and Sophia requests him to lead her security detail, putting him in a position where he may have to kill again. However Gabriel realizes he can kill again, if it means protecting the woman he loves.
Each of these books has a different dramatic flair that moves in a continuing theme from story to story. Foley writes with such detail; the richness of the Indian culture is described beautifully, as is Princess Sophia's island nation, torn apart by war. The characters are well drawn out, each flawed and beautiful in their own way. These books are definitely worth a read!