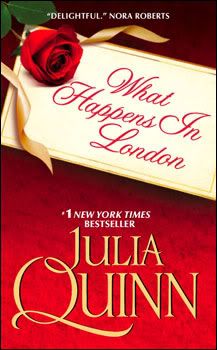 I just adore Julia Quinn.  Every time I read one of her books, I finish it with a smile on my face, and a warm, cozy feeling.  Quinn's character's are fun to read as they get themselves into one mess after another!
What Happens in London tells the story of Sir Harry Valentine and Lady Olivia Bevelstoke. (If you've read The Secret Diary of Miss Miranda Cheever, then you've already met Olivia)  Harry is an ex-military man who is fluent in Russian and French (thanks to his Russian grandmere) that works for the War office translating Russian documents.  Poor Harry grew up with an alcoholic father, and an emotionless mother that paid no attention to him.  After one too many embarrassing moments at school with his father, Harry decides on a whim to follow his cousin Sebastian into the Army.  Ten years later, Harry is back in London and letting a house in Mayfair, which happens to be next door to the residence of the Earl of Rudland, and his daughter, Lady Olivia Bevelstoke.
Olivia is a charming, beautiful girl, who loves gossip, gowns, and reading the newspaper front to back every morning.  She has turned down several offers of marriage and is in her third year as an unmarried woman. During a morning gossip session in her drawing room, she learns that her new neighbor supposedly murdered his fiancee, which leads her to keep an eye on him from her window.  She is positive he may be a danger, and decides it is best if she keeps watch.  Besides, he could never see her behind her curtains, and she is very stealthy.  Of course, Harry does see her.  Harry makes a point of introducing himself to her at a musciale and the two do not particularly hit it off. 
When Harry is given an assignment to keep an eye on a Russian prince, he learns that this prince is all but courting Olivia.  His orders to keep an eye on her as well cause him to spend more time in her company, and the two develop a strong friendship that turns into something more, much to the annoyance of the prince, with whom Harry does not get along. With daily talks from their windows, Harry can follow his orders while embarking on an informal courtship.  Of course, Olivia isn't aware of any of this, only that she enjoys Harry's company, and is very uneasy around the prince.  When Harry is ordered to cease watching the prince and Olivia, and after a hilarious performance of a very ridiculous "lurid graphic novel" the friction between Harry and prince subsides.  Things threaten to go wrong for our couple during an evening at the Russian ambassador's house, and there is some action and a little angst.  What would a romance novel be without that?
Definitely pick up this book!  Julia Quinn writes in such a light-hearted way that even her heroine in danger is amusing.  Her characters are so charmingly written, even the villains, and it makes this book so very lovely to read.  Poor Harry and his past with his alcoholic father taint him slightly, but even that has some amusement to the story.  If you're looking for a fun read, this is the book for you.